TCI Tricone Rock Drilling Bit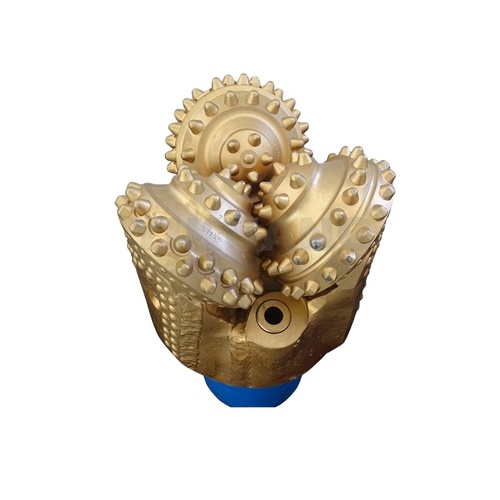 TCI Tricone Rock Drilling Bit
Product Description
These Tri-Cone Bits are designedto withstand high loads and drill abrasive conditions where rock is brokenunder high compressive point loads, with little scraping and gouging.Therefore, the cutting elements tend to be small, exhibit shorter protrusionand are more densely packed, which prevents the high compressive loads frombreaking the tooth before it breaks the rock.
tricone bit covers almost IADCcode,including 11 common tpes, and is with raliable quality and resonableprice,the size range is from 3 7/8" to 26",can be used for geologicalprospecting, development of oil and gas, drilling water wells,blast holes andmaking holes for seismic prospecting,construction engineering
Our tri-cone drill bits classification: water welltri-cone drill bit, geothermal well drill bit, trenchless directional triconedrill bit, natural gas drill bit, petroleum drill bit, including sliding sealedbearing tseries,rubber composite sealed bearing series, rolling bearing series, metal sealedseries, non-sealed series, etc.
All tricone bits are accordingto ISO and API standards
HAOJIANG Established in year 2004, with the first-class engineersof tricone bits and roller cone bits, HAOJIANGis a professional factory of
rock drilling bits.
Main products: Tricone Bits, PDC Bits, Hole Openers,Single RollerCone Bits.
We service for :
Tenders from government or national enterprise. Drillingcon tractors.
Construction projects including HDD and Foundation Piling.
Water well drilling, exploration, etc.
Contact Us
Jin Shun Road Jinxi Town Kunshan City, Jiangsu Province, Suzhou, Jiangsu, 210000, China
Phone :+8619814593758