Tricone Single Roller Cone Bit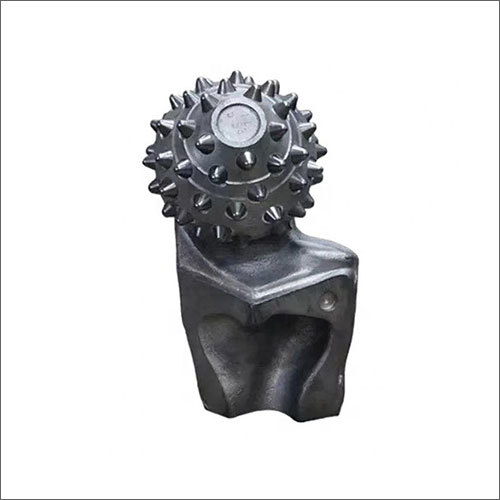 Tricone Single Roller Cone Bit
Product Description
| | |
| --- | --- |
| size | 8 1/2 inch single roller bit |
| Machine Type | piling tool |
| Material | Carbide |
| Processing Type | Forging |
| Other name | roller cutter/Roller cone/roller bit |
| Bearing type | Elastomer Sealed Bearing |
| Application | Trenchless & HDD & Foundation |
| Advantage | High Performance Cost Ratio |
Description:
TCI tooth roller cone,steel tooth roller cone,replaceableroller cone/HDD roller cone/Hole opener roller cone/pilling roller cones
1.Cutting Structure
Reinforcing the comprehensive mechanical properties of cutting tooth by usinghigh quality tungsten carbide inserts of new formula and new techniques ofinsert bit.

2.Gauge Structure
The multiple heel position with gauge trimmer on the heel, tungsten carbide andhardfacing on the shirttail, strengthened spear point will enhance the gaugeprotection.

3.Bearing Structure
High precision journal bearing with two thrust faces. Ball locked cone.Hardfaced head bearing surface. Cone bearing inlaid with friction reducingalloy and then silver-plated. Abrasion resistance and seizure resistance of thebearing are improved, and suitable for high rotary speed.
JIANGSUHAOJIANG DRILLING TOOLS CO.,LTD is a professional manufacturer of drillingtools,including tricone bit, PDC tricone bit,Hole opener,single cone bit and soon.With years of study and refining of the introduced technology, we havesucceeded in the field of product research with proprietary intellectualproperty rights.Also, we have made major breakthrough in the lines of analoguesimulation in bottom-hole flow field,profile optimization,design of insertsarrangement and low torque,material and manufacturing techniques etc. As aresult, our products own better characters of service and ranges ofapplication.Mainly used for oil and gas,mining,geothermal,construction and soon.
Theproducts of our company have achieved industrialization and serialization.Besidesour company has always laying importance on the technical exchanges andcooperation with the counterparts both at home and abroad.Our products havebeen sold all over the world, including the United States,England,Canada,Brazil,Russia,Italy,Iran,Saudi Arabia,Korea, India, and Polandand so on.
Mainproducts
triconebit(mill tooth and tungsten carbide insert tricone bit, drag bit,single roller cone bits,rock roller bits,HDD pilot bits)
PDCbit(matrix body and steel body PDC bit)
holeopener(HDD rock reamer,barrel reamer,fluted reamer,etc)
dragbit(step drag bit,PDC drag bit,chevron drag bit,etc)
accessories(roller cone, bit breaker, ring gauge, nozzle ,etc)
Trade Information
SHANGHAI,CHINA

100 Per Week
2 Days

Contact us for information regarding our sample policy
WOODEN CASES

Eastern Europe North America